Catchpool, 26th November 2016
Course planners: Keri Devine and Rob Smith. Organisation: Michael Wood. On the day: John Robertson, Kelvin Thiele, Cameron Thiele and Bradley Thiele. The Dept of Conservation looks after Rimutaka Forest Park, and our access has been helped by arrangements made nationally between DOC and Orienteering New Zealand. Thanks to local DOC staff Daryl Stephens and Roger Pope.
Commentary
May contain gossip and rumour from the 2016 Big Trig, in days to come. Right now, its a place to put some top routes. We have of course made some assumptions about routes between controls.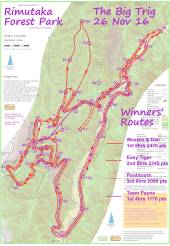 For those of you on Strava, there appear to be 11 rogaine tracks there, and you can replay the event through the "Fly-By" feature. Un-tick Paul and Rhonda, they are probably non-rogainers who just happened by.
A bad decision at the end of the 4 hours robbed "Powerpuff-ing Girls" of what could have been 4th place and top women's team. Their struggle down thru the scratchy 23-55-51 route left them over the maximum 30min lateness. Racing down the Butcher track, even without picking up 41 and 60, could have got them home in time. The team are 2nd-year engineering students at Auckland Uni.
Andrew McLellan (Poohtours, 3rd place in the 8 hours) was in doubt for the event due to a suspected broken toe. In spite of that the team topped 2000 points. We suspect the women in the team may have carried him...
An interesting confirmation of OHV's whistle policy (which applies to all its non-urban orienteering events as well as rogaines). Arthur Klap (5th place in the 4 hours) roused his dozing neighbours into action after the big earthquake with - a whistle. He lives at tsumani level in Evans Bay.
Winners of the 8hr category were Dan Jones and Weston Hill. Jones is the son of Neil Jones, adventure racer and Coast to Coast winner. They beat top orienteer Nick Hann and Theo Wordsworth by 130 points, including the 706m Mt McKerrow as well as the southern loop.
The southern loop in a clockwise direction formed the "Trampers Marathon" circuit, a race which had to be done in boots. The course went thru to the river, down to almost #91, straight up the ridge to #92, and finished with a crazy descent down the 55-51 ridge. This had pine trees then and was much less scratchy - but no less steep!
The present-day "Orongorongo Track" is a relatively modern construction. The traditional route to the Orongorongo River, known as "The 5-mile Track" is still there in parts though increasingly overgrown. See the dotty track from Clay Forks (near#11) past #30 and continuing on the north side of the current track. Yes its not 5 miles - that measure possibly starts on Coast Road. In fact early trampers would take the ferry to Days Bay, and start their expedition from there!
We have NEVER had cellphone coverage in the Catchpool Valley. But Keri Devine's mobile got reception at a very specific point in the event centre shelter. Other networks - no go. Others on the same network - no go. So they are very worthwhile including in the safety gear even if the chances seem low.
We need to pull in the ribbons over the next few weeks, a good chance for some more training for the Australasian Rogaine Champs in Southland next Feb! Please consult us first, Keri and Rob placed a number of ribbons that weren't used, and they need to come in too. In the longer term it would be good to visit all the un-verified huts, and to plot the tracks that inevitably connect them to the 4WD track or the river. Could be a nice little mini-rogaine around 22-82-92 for example:-))
Some stats. There were 38 teams containing 94 people. Control 31 was most popular but even so, not every team visited - 36. The next was strange - #81 with 33 visits - right up on Cattle Ridge. Guess it was valuable, and various ways of approach meant the surrounding ones didn't figure quite as highly. Number 72 nearby had 32 visits. At the other end, 3 teams visited #40 on one of three ways up McKerrow, and 4 teams visited 48 (furthest up the river), and 61, 70 and 100 (high up on McKerrow) You are welcome to dig into the raw result spreadsheet.
8 Hour Rogaine
| Team | Name | Members | Time | Night? | Score |
| --- | --- | --- | --- | --- | --- |
| 966 | Moose on the Loose | Tim Farrant, Theo Wordsworth | 9hrs | Yes | 700N+B140 + 1450 =2290* |
| 988 | Control Geeks | Jon Dallimore, Emily Walby, Jeremy Stewart | 9hrs | No | 1560 |
| 985 | CarrKen | Phil Kendon, Harriette Carr | 9hrs | No | 1510 |
| 975 | Chocoholics | Ben Nistor, Karsten Lorentz, Aidan McLean | 9hrs | Yes | 370N +74B +1010 = 1454 |
| 991 | L2 | Leon Perrie, Lara Shepherd | 9hrs | No | 1300 |
| 993 | Running Wild | Billy Rodenburg, Jesse Watt | 9hrs | Yes | 410N -370L +82B +870 =992* |
| 937 | Flying Takahes | Jenny Visser, Mike Fee | 9hrs | No | 990 |
| 938 | The Sixties | Arthur Klap, Victor Klap, Gary Dick | 9hrs | Yes | 150N +B30 +590 =770 |
6 Hour Rogaine
| Team | Name | Members | Time | Night? | Score |
| --- | --- | --- | --- | --- | --- |
| 648 | 98 Not Out | Nigel Corry Al Cross | 6hrs | No | 1060 |
| 695 | Jokens | Jo McKenzie, Ann Kendon | 6hrs | No | 1000 -60L =940 |
| 680 | Stephanie and Hannah | Hannah Charan-Dixon, Stephanie Farrant | 6hrs | No | 920 |
| 635 | Sponsored by Student Loan | Katie Malthus, Libby Malthus, Ali Burrell | 6hrs | No | 880 |
| 677 | Bewildered | Kirsty van Reenan, Natasha Tomic, Juliet Milne, Mark Bestbier | 6hrs | No | 820 |
| 676 | Walking Wonders | Graeme Silcock, Jenny Cossey | 6hrs | No | 760 |
| 697 | The Unpronounceables | Scott Kearney, Brechtsje Tacoma | 6hrs | No | 720 |
| 674 | Alan, Alan, Alan, Simon! | Paul Teesdale, Alan Teesdale | 6hrs | No | 690 |
| 694 | Speedsters | Tim Hodgkinson Paul Tryon | 6hrs | No | 410 |
| 689 | The Staffordians | Melanie Cotterill, Jane Boyden | 6hrs | No | 400* |
| 684 | ConCrew | Mike O'Connor, Roderick O'Connor | 6hrs | No | 400 |
| 696 | Sudienakadamie BA Glachau (Ger) | Eric Wallschlaeger, Christian Seifert | 6hrs | No | 170 |
| 611 | Deliver Us from Evil | Glen Warner, Nicole Ranger (Unoff Day) | 6hrs | Yes | 380N -20L +76B +510 -51S =895 |
| 687 | My Generation | Jerome Sheppard, Jill Westenra (DNS Nathan Sheppard, Liam Drew) | 6hrs | No | DNF |
3 Hour Rogaine
| Team | Name | Members | Time | Night? | Score |
| --- | --- | --- | --- | --- | --- |
| 390 | Los Scotch Ale | Orsolya Vincze, Victoria Apablaza | 3hrs | No | 450 |
| 378 | Kina O | Pat van Berkel, Ocean Mercier | 3hrs | No | 230* |
| 386 | PSAG | Andy Newman, Andrew Swan | 3hrs | Yes | 160N +32B =192 |
| 383 | The Cherry Bombs | Hilary Hopkinson, Angela Sheppard, Mel Burgess, Virginia Meyer, Cilla Harnett | 3hrs | No | 190 |
| 357 | Out for a Wander | Gerald Crawford, Brent Bursson | 3hrs | No | 570 -420L =150* |
| 312 | Spirited Adventure | Sarah Holland, Emmy Johnson, Janine Emrys | 3hrs | No | 250 -140L =110 |
| 340 | O'Sullivan | Sarah O'Sullivan, Ben O'Sullivan | 3hrs | No | 310 -230L =80 |
| 392 | Rainbow Sparkles | Dana Carter, Scott Scrimgeour | 3hrs | No | 220 -230L =-10* |
| 382 | O2 No More | Nikki Braniff-Jones, Helga Grant | 3hrs | No | 230 -300L =-70 |
| 343 | Spoofers | Derek Lee, Robert Cuthbert | 3hrs | No | 130 -240 =-110* |
| 339 | Dynamic Duo | Fiona Wharton, Xena Proudfoot | 3hrs | No | 110 -340L =-230 |
| 373 | Out & About | Janet Dobbie Anna Engleback | 3hrs | No | 350 -620 =-270 |